BY TREVOR HORN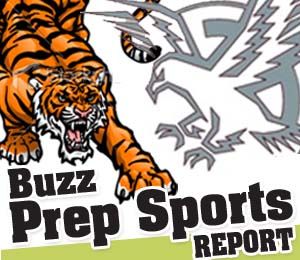 THE NATOMAS BUZZ | @natomasbuzz
It was just 18 days ago when River Valley High School snapped the Inderkum girls basketball's 23-game Tri-County Conference win streak in Yuba City.
One word summed up the Lady Tigers' hard-fought 39-36 win at home on Tuesday night for varsity head coach Phillip Hampton:
Redemption.
"The officials did a great job tonight," said Hampton of his team giving the Falcons their first TCC loss this season. "I have no complaints about anything and the outcome is what we expected."
Led by best-friend duo senior guard Aleysha Simmons and freshman backcourt mate Shymir Mitschan-Baldwin, the Lady Tigers (15-10 overall, 6-2 TCC) used great defense, hard-charging offensive drives and a bit of determination to improve Inderkum's playoff seeding and move within a game of River Valley (17-7, 7-1) with two games left to play.
"We've got to stay strong and keep going," Simmons said. "Everything else will come."
Simmons finished with nine points, including a fast-break layup giving Inderkum the largest lead of the game 37-33 with 1 minute, 44 seconds to play.
Mitschan-Baldwin scored a team-high 12 points, and had a five steals, including three in the second quarter when Inderkum outscored the Falcons 15-9 and held a 19-18 halftime lead.
"Shymir does it all, she is just an all-around player," Simmons said. "She is going to become better every year, I have faith in her. That's my best friend."
Mitschan-Baldwin also made both free throws in a one-and-one situation with 15 seconds to play which, for any player, let alone a freshman, is nerve-wracking.
"She wants to make the plays and she wants to do the right things," Hampton said. "I couldn't be more proud of her."
Inderkum needs River Valley to lose at least one of the final two games for the Lady Tigers to hope for a tied TCC title. But Hampton said now is more about preparation for the playoffs.
"We can't worry about others and what they can do for us," Hampton said.
Natomas Close To Playoff Berth
The Natomas High School varsity girls basketball team beat Pioneer High School for the third time this season and inched closer to an improbable playoff berth with a 56-39 win Tuesday which was also Senior Night.
Led by senior forward Sierra Maun (21 points, 11 rebounds), the Lady Nighthawks (5-15, 4-4) were in the 16th and final playoff spot in the Sac Joaquin Section's final power rankings released on Monday.
The regular season ends next Tuesday at Inderkum and the playoff brackets will be announced on Wednesday, Feb. 13.