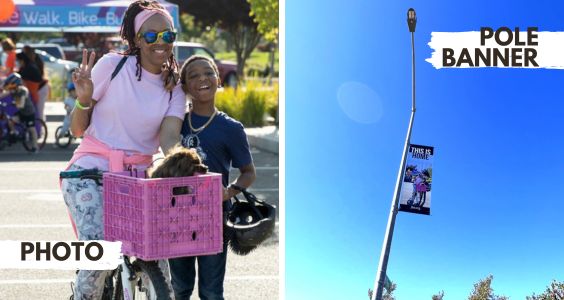 BY MICHELLE BASSO REYNOLDS, NORTH NATOMAS JIBE
FOR THE NATOMAS BUZZ | @natomasbuzz
Models are being sought for a unique public art project aimed at showcasing the diversity and sense of community in north Natomas.
The project will feature images of community members on pole banners along Natomas Central Drive and North Park Drive. The project is a collaboration between North Natomas Jibe and the office of Sacramento City Council District 1 Councilmember Lisa Kaplan.
In late September, North Natomas Jibe and District 1 Parks and Community Enrichment Commissioner Odet Ford and District 1 Arts, Culture, and Creative Economy Commissioner Wellington Smith hosted an event where area high school students shared their ideas about living in north Natomas. The group brainstormed and together developed a project theme: Joy.
The project will use images to highlight what brings happiness to the community and what makes living in north Natomas special.
North Natomas residents of all ages, ethnicities and backgrounds are invited to participate in the project. North Natomas is defined as the area bounded by Interstate 80 to the south, Garden Highway to the west, Northgate Boulevard to the east and the Metro Airpark Way to the north.
To participate, submit information and photos about yourself such as your culture, the hobbies that bring you joy, and how your experiences as a resident of north Natomas embodies the spirit of the community. Include a short quote or statement summarizing why you enjoy living in north Natomas and what makes the community special which may be featured on the backside of the light pole banner
Participation in the project is voluntary and unpaid, and not all entries will be selected for the banners. The deadline for submissions is Monday, Nov. 13.
North Natomas Jibe is a local nonprofit organization funded through community facilities district fees and grants.
Submission guidelines: Send your background info, photos, and quote via email to [email protected] or submit on social media using the hashtag #NorthNatomasJoyProject. If submitting on social media, please ensure your privacy settings are set to public for this content so we can view your submission. By submitting, you give North Natomas Jibe permission to use your photo and quote in the public art project and related promotional materials. Participants who are selected for the project must be available to attend at least one photo shoot that will take place during daylight hours on Tuesdays, Wednesdays, and Fridays from Nov. 15-30.