PHOTOS BY BRANDY TUZON BOYD
THE NATOMAS BUZZ | @natomasbuzz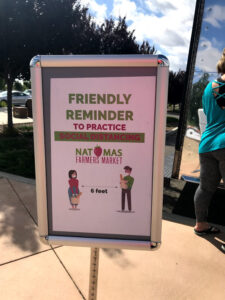 The seasonal farmers market reopened on May 23 in Natomas.
Every week, the market features farm-fresh food from local farmers, food vendors and live music.
Farmers may apply to the Natomas Farmers Market with their agricultural products (fruits, vegetables, herbs, nuts, honey, flowers) and their non-certifiable agricultural products (meats, poultry, eggs, oil, jams, nut butters, wine, dairy products, aqua-culture). All products must be grown in California.
Processed foods sold at the Natomas Farmers Market include ready-to-eat foods prepared off-site, made using ingredients produced by California farmers whenever possible such as tamales, soup, pies and breads.​
Prepared foods are made on-site and all new prepared-food vendors must use farm-fresh ingredients, sourced from California farmers whenever possible.
---
To apply to sell at the Natomas Farmers Market go to https://www.angeliqueashby.com/farmersmarket.
​Acoustic musical entertainers interested in performing at the Natomas Farmers Market can email [email protected].