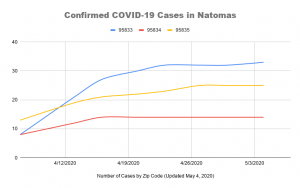 BY BRANDY TUZON BOYD
THE NATOMAS BUZZ | @natomasbuzz
There was one new confirmed COVID-19 case in Natomas in the past week, according to data released by Sacramento County health officials today.
"Sacramento County is proud of its residents and to be part of a four-county metropolitan region that has been working toward flattening the curve," read a statement by county health spokesperson Janna Haynes. "We know that our success so far is a result of the collaboration of many jurisdictions, agencies and departments working together to protect our community, as well as the adherence to local and state public health orders by our residents."
The number of confirmed cases in zip code 95834 has remained at 14 for the past 19 days and 25 for seven days in zip code 95835, county numbers show.  There has been one new confirmed case in 95833 since April 23 — the first in more than a week —for a total of 33.
County data shows the total number of confirmed cases in Natomas now totals 72 or about .06% of those who reside within zip codes 95833, 95834 and 95835 . This figure is based on the estimated population of 110,000, according to data on the U.S. Census Bureau website.
Sacramento County ranks No. 10 in the state for confirmed COVID-19 cases, according to the California Department of Public Health.
Countywide there have been ​1,127 confirmed COVID-19 cases; 620 of which are within the Sacramento city limits which includes zip codes 95833, 95834 and 95835. According to the data, most confirmed cases in Sacramento County are among those ages 18-49 years old.
The Sleep Train Arena Alternate Care Facility in Natomas had six patients as of the close of business Sunday, May 3, according to a spokesperson for the California Governor's Office of Emergency Services.
Added Haynes, "COVID-19 remains a threat and we encourage everyone to continue to be observant to the local and state health orders in a continued effort to protect our communities."
---
You may also be interested in:
Our COVID-19 related articles can be found here.
Sacramento County COVID-19 (2019 Novel Coronavirus) website