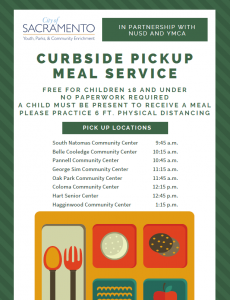 THE NATOMAS BUZZ | @natomasbuzz
Curbside meals are available for children weekdays at the South Natomas Community Center in response to the COVID-19 pandemic.
"The program is through the California Department of Education's school food program with USDA," said Jackie Beecham, recreation manager for the city of Sacramento's Community Enrichment Division. "Since children are not in school and many are unable to access food, we partnered with (Natomas Unified School District) to secure meals for eight of our locations; grab and go breakfast and lunch for children 18 and under."
Pickup time at the South Natomas Community Center, located at 2921 Truxel Road, is 9:45 a.m. Monday through Friday. Curbside meal pickup service is available at all city community centers in partnership with the school district and YMCA.
The meal program is free to children 18 and under. No paperwork is required, but a child must be present to pick up a meal. Participants are asked to maintain six feet of physical distance when receiving their meals.
The first two weeks of the program, more than 2,400 meals were distributed citywide, according to Beecham.
"We are also providing different resources for children and families to take home with their meals; from take-and-make craft activities, early learning tool kits," said Beecham.
Last week, the city partnered with the Sacramento Public Library to provide a free book with every meal and handed out more than 900 book. The books were previously designated to be given away at spring festivals and other library outreach events, which have all been canceled because of the statewide stay-at-home orders.
"We are thrilled to partner with the Library to ensure these books get into the hands of youth, something that's more important now than ever," Beecham said.
The Natomas Unified School District distributes grab-and-go lunch and breakfast for the next day Monday through Friday at all its schools sites. The Twin Rivers Unified School District distributes grab-and-go lunch and breakfast for the next day at select schools and other sites within the district.