BY BRANDY TUZON BOYD
THE NATOMAS BUZZ | @natomasbuzz
Work is under way on a new crosswalk that will make it safer for pedestrians and cyclists to navigate West El Camino Avenue in South Natomas.
At the same time, the new pedestrian hybrid beacon signal will improve connectivity for the Natomas Westside bike path, which runs parallel to the Natomas Main Drainage Canal south of Interstate 80.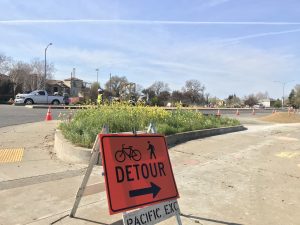 The crosswalk, located just west of Grasslands Drive, is one of nine planned for high-traffic roadways within the city limits. Beacons are also planned for Del Paso Boulevard at Helena Avenue, 15th Street at Capitol Avenue, Broadway at 36th Street and 4th Avenue, Broadway Avenue at 38th Street, Sutterville Road at East Road, 24th Street at 53rd Avenue, Valley Hi Drive at Valley Green Drive, and Bruceville Road at Staccato Street.
The goal: to improve pedestrian and bicycle safety at locations which currently have uncontrolled crossings and have a history of pedestrian and bicycle related collisions. (Six of the locations currently have marked crosswalks.)
The project will also construct Americans with Disabilities Act-compliant curb ramps, improve roadway striping where needed, and improve access to the city's trail network in two locations.
A pedestrian hybrid beacon is a traffic control device designed to increase motorists' awareness of pedestrians and cyclists who are crossing at uncontrolled, marked crosswalk locations. An uncontrolled crosswalk is a legal crosswalk across a roadway which is not controlled by a stop sign or traffic signal.
The city first installed this then-new traffic control concept near U.C. Davis Children's Hospital to assist pedestrians who were crossing the five-lane Stockton Boulevard.
According to Sacramento Police Capt. Steve Oliveira, Federal Highway Administration data shows pedestrian hybrid beacons can significantly reduce pedestrian crashes.
When the beacon is activated by a pedestrian or cyclist, motorists see a flashing yellow light followed by a solid yellow light. This is a warning that they should prepare to stop.
A solid red light indicates motorists must come to a complete stop and wait at the stop line. During the alternating flashing red lights, motorists must still come to a complete stop and yield to pedestrians, but may proceed once it's safe to do so. They do not have to wait for the flashing red lights to turn off, wrote Oliveira in an "Ask Capt. Oliveira" column.
Pedestrian hybrid beacons have also been installed in North Natomas to improve pedestrian and bicyclist safety where the Jackrabbit Trail crosses Del Paso Road and the West Canal Bike Trail crosses San Juan Road.
While North Natomas Jibe partnered with the city to help fund these two crossings, the new pedestrian hybrid beacon in South Natomas and eight others planned throughout the city are being paid for by Measure A monies as well as federal and state funding programs.
Pedestrian refuge islands and rectangular rapid flashing beacons have recently been installed at several uncontrolled crosswalks on smaller roadways citywide including San Juan Road at Bandon Way and Del Paso Boulevard at the American River Bike Trail in South Natomas. When a pedestrian or cyclist pushes a button, these devices activate flashing beacons to warn motorists to stop and allow them to cross safely.
---
You may also be interested in:
Streetwise: Walking and Biking in Natomas A Special Report
North Natomas Bikeway Map
Sacramento Bikeway User Map (2016)