BY BRANDY TUZON BOYD
THE NATOMAS BUZZ | @natomasbuzz
Former Sacramento mayor Heather Fargo is making good on a mission to plant hundreds of trees in South Natomas.
Fargo works part time for the Sacramento Tree Foundation as their South Natomas NeighborWoods Organizer. She's coordinating the South Natomas Urban Greening initiative which has a goal to plant 1,000 trees in three years in Gardenland, Northgate and South Natomas.
"My job is to get trees planted," said Fargo, a long-time Natomas resident who served on the Sacramento City Council from 1989 to 2000 and as the city's mayor from 2000 to 2008.
NeighborWoods is a community-led movement meant to improve Sacramento neighborhoods by bringing neighbors together through tree planting and care activities. It supports tree-lined streets, shaded parks and schools, and tree-canopied yards by providing free trees as well as the tools, expertise, and education needed to grow an urban forest.
Fargo's efforts in South Natomas started with planting two trees in front of the South Natomas Community Center off Truxel Road, said David Guerrero, the Sacramento Parks and Community Enrichment Commissioner for the area.
The next tree was planted at Northgate Park in partnership with the Green Team at American Lakes Elementary School.
"It was a field trip adventure to Northgate Park for clean-up and tree planting," Guerrero explained. "Since then, Mayor Fargo has been on a roll."
Fargo said she formed an advisory group to help identify which area parks and schools in South Natomas need trees.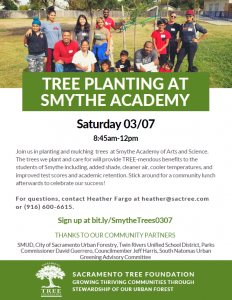 A park clean up, tree planting and mulching was held at Gardenland Park, Guerrero said. Fargo then coordinated with Rio Tierra Junior High School and Natomas Youth Baseball club to plant trees near the baseball bleachers which will one day provide shade.
Next, 16 trees were planted at Ninos Park with guidance from city arborist Jesus Munoz. Munoz  selected trees that would create surrounding shade for the soccer field and also be in compliance with the strict height and distance regulations which surround the nearby electrical transmission towers.
In January, Fargo said, 28 trees were planted and mulched along West El Camino Avenue to Ninos Parkway.
"The success of the El Camino Avenue (planting) and mulching at Ninos Parkway was extremely visible," said Guerrero.
Today, March 7, Fargo said she's expecting about 50 volunteers at a tree planting at Smythe Academy of Arts and Science on Northgate Boulevard. The plan is to plant 24 trees now and 24 more trees in the fall, she said.
"Mayor Fargo has turned the tree planting project into a community uplift project," said Guerrero. "She reaches out to community groups and attends meeting to recruit volunteers. It is much more than getting trees into the ground, it is about planting seeds in each volunteer to think about their community in a big beautiful picture."
---
To learn more about the South Natomas Urban Greening effort, contact Heather Fargo at [email protected].