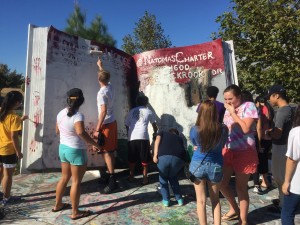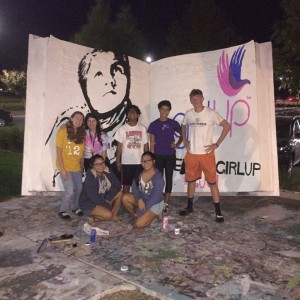 THE NATOMAS BUZZ | @natomasbuzz
This fall, Inderkum Girl Up painted the Authors of Our Own Destiny interactive sculpture in front of the North Natomas library to let the community know about the club.
Girl Up is a worldwide movement uniting girls to change the world affiliated with the United Nations Foundation. Inderkum Girl Up is just one branch out of the 451,325 clubs and advocate leaders  around the world.
Founders of the Inderkum Girl Up club said they felt people were not aware of struggles some adolescent girls face such as child marriages, rape, lack of education, and/or lack of government help/support.
"We created the club to raise awareness, help put a stop to the harsh environments, and raise funds to give girls the proper education, safety, and health they need to succeed."
Inderkum Girl Up was started in March 2015 by students Alyssa Luy, Gwyneth Diaz, Taylor Vera and Tiffany Barba Soto. The group has grown from 15 members to more than 70 which have raised about $1,000 to help the girls in third world countries.
---
For more information about Inderkum Girl Up, send a message to [email protected].