THE NATOMAS BUZZ | @natomasbuzz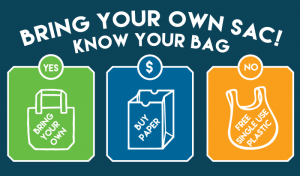 The city of Sacramento's single-use plastic bag ban goes into effect tomorrow
Starting Jan. 1, 2016 single-use plastic bags will no longer be available at grocery stores, large pharmacies and convenience stores within Sacramento's city limits.
Customers can bring any bag of their own to use to carry purchases and are not required to buy a bag if they do not want or need one.
Stores subject to the ban must make recyclable paper or reusable bags available for purchase for a minimum of $.10 per bag.
Stores NOT required to stop using single-use plastic bags include retail stores which do not sell food and do not have a pharmacy, restaurants and farmers' markets.
Bags are exempt from the ban and from the $.10 fee if they are reusable bags or bags without handles provided to carry produce or meat within a store, carry prescription medication dispensed from a pharmacy or segregate food or merchandise that could damage or contaminate other food or merchandise.
Participants in WIC or CalFresh using a voucher or EBT card may not be charged for bags. Stores can choose which reusable or paper bags to offer these customers free of charge.
---
More information on the ban, including the full text of the ordinance is available at www.bringyourownsac.org.