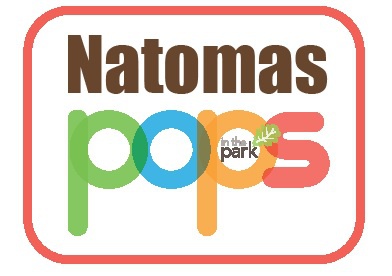 BY ROBYN EIFERTSEN
THE NATOMAS BUZZ | @natomasbuzz
City and community leaders say they are adding some "pop" into celebrating Natomas.
The community's annual fall event previously known as "Celebrate Natomas!," has been rebooted and rebranded "Natomas Pops in the Park."
The event will take place from 4 p.m. to 7 p.m. Saturday, Oct. 17 at the South Natomas Community Park.
"Natomas Pops" will feature an outdoor concert by Mumbo Gumbo, Sacto MoFo food trucks, an art garden featuring work by Natomas artists, some community booths and a Track 7 beer garden. According to organizers, the event will not be centered around a vendor fair like the previous "Celebrate Natomas!"
The event is modeled after the popular "Pops in the Park" – a series of outdoor concerts held every summer in East Sacramento dating back to 1991.
"Having a bunch of booths come out was exciting and groundbreaking about 15 years ago, but people don't show up to those anymore," said David Gonsalves, district director for Councilman Jeff Harris' office.
For a dozen years, "Celebrate Natomas!" was held in South Natomas and showcased 100+ local businesses, school groups and community organizations which set up and manned information booths during the event. Some years a beer garden was included which helped raise money for neighborhood non profits.
Harris' office led the charge to change "Celebrate Natomas!" with the help of a steering committee comprised of active members of the Natomas community.
According to District Three staff, Harris' office had received requests to create a community event that was "more entertaining" and "cost effective."
"Celebrate Natomas!" cost District Three about $30,000 to put on, Gonsaleves said. Sponsors helped cover some of the costs – such as insurance, permits and booth popups – but not all, he explained.
Comparatively, the price to put on "Natomas Pops" is expected to be only $10,000 to stage, said Gonsalves.
Adam Sartain, who ran against Harris for the District Three city council seat last year, headed the "Natomas Pops" steering committee. According to an online poll, area residents favored an outdoor, band-oriented event with a beer garden, he said.
"(The Gardenland-Northgate Neighborhood Association) has always supported 'Celebrate Natomas!'," GNNA president Annette Emery said. "We would like to see it continue, but understand the need to freshen up the event."
Harris's office said it had only heard from one person concerned about "Celebrate Natomas!" being discontinued.
The South Natomas Community Park is located at 2881 Truxel Road, adjacent to the South Natomas Library and South Natomas Community Center.
---
Meet the District 3 Staff

Councilman Jeff Harris Harris represents city council District Three which reaches from Interstate 80 south, east of Interstate 5 and along the East Levee Canal, encompassing Gardenland/Northgate corridor and most South Natomas neighborhoods, the River District and East Sacramento. He was elected to office in November 2014. He can be reached at (916) 808-7003 or [email protected].
David Gonsalves is District Director for District Three and is available to answer calls from constituents. He also works on special projects and is an adviser to the Councilman Harris on policy issues. The best way to reach Gonsalves is at (916) 808-7003 or [email protected].

Jennifer West is Harris' Executive Assistant. West is responsible for District Three's scheduling, social media, website updates, email blasts, Pops in the Park and Food Truck Mania events. She also tracks expenses. She can be reached at (916) 808-5240 or [email protected]
Danielle Vincent is the Constituent Affairs Representative for District Three. Vincent helps with District Three concerns and graphics for Harris' office. Vincent can be reached at (916) 808-5532 or [email protected].