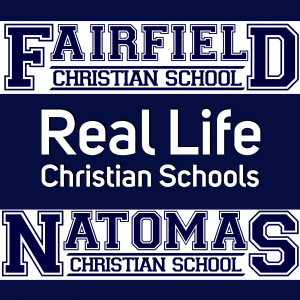 BY ROBYN EIFERTSEN
THE NATOMAS BUZZ | @natomasbuzz
Natomas is now home to its first, Christian-based private school.
Natomas Christian School is currently enrolling students preschool through 12th grades. School is set to begin Aug. 17.
Currently, Natomas-area residents interested in having their children attend Christian-based education commute to Rancho Cordova, Roseville, West Sacramento or Woodland, according to Kelvin Jackson, the new Natomas school's principal.
Three private schools now operate in Natomas including Merryhill Preschool on Karitsa Avenue, Merryhill Elementary School on Millcreek and Peace Lutheran Church preschool. And the Divine Mercy Catholic Parish in Natomas has long-term plans to open a school.
The new Bible-based school will be located at Real Life Church in Natomas with plans to expand to a separate campus as enrollment grows, according to Superintendent Jason Yarbrough. The school is affiliated with Real Life Church and is modeled after sister school Fairfield Christian School in Fairfield.
"The timing is just perfect to go forward," Jackson said. "We are excited to offer this opportunity."
The Natomas campus is opening in part due to the relocation of Yarbrough to Sacramento. Yarbrough is also a Real Life Church administrator.
Natomas Christian School will be technology-based and place emphasis on individual learning. For example, it will have small class sizes ranging from 10 to 16 students, Yarbrough said.
Each student receives and studies the Bible as well as the standard language arts, math, science and social studies text. Creationism is included in the  curriculum.
School enrollment fees start at $5,500 a year, Yarbrough said.
The Fairfield campus opened six years ago with 26 students. It now has 125 enrolled. Yarbrough expects the Natomas campus to register about 50 students for its first year.
Natomas resident Mark Michael's teenage daughter will attend the new school in August. He also plans to send his two younger sons to the school.
"I think it's fantastic," said Michael, who has lived in Natomas nearly 12 years. "There isn't any Christian school here. Anywhere else we would go, we'd have to travel to get to."
Michael said the new school gives his and other Natomas families an alternative to the public school system. And he said he likes the new school's emphasis on Christian values.
Jackson is leaving his post teaching English at Natomas Pacific Pathways Preparatory High School to lead Natomas Christian School. He looks forward to providing spiritual guidance to students as well as high educational standards.
"There are times now I want to say, 'Can I just pray with you right now?'" Jackson said. "But I can't necessarily do that."
Natomas Christian School is accredited by the Western Association of Schools and Colleges as well as the Association of Christian Teachers and Schools, Yarbrough said.
Natomas Christian School is located at 1921 Arena Boulevard.