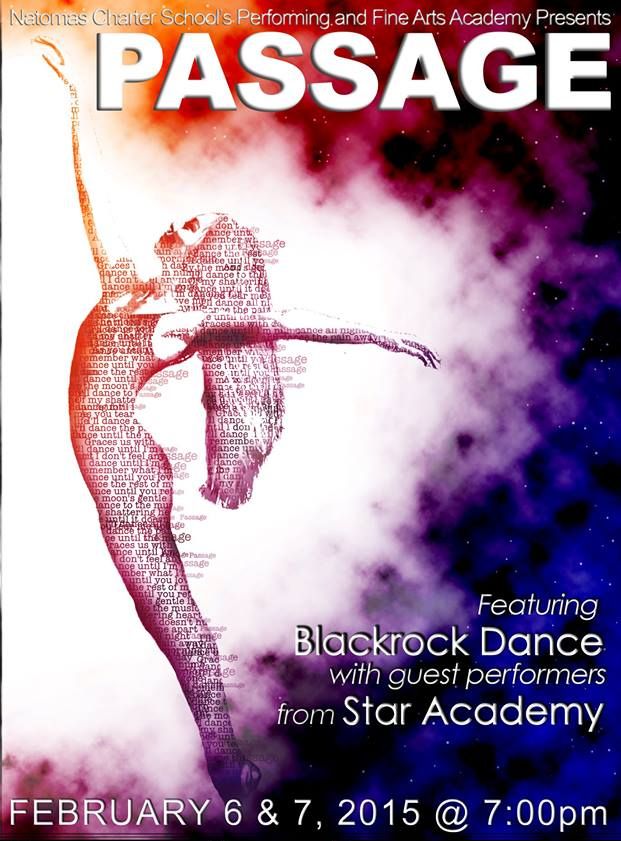 BY TRINA DROTAR
THE NATOMAS BUZZ | @natomasbuzz
Blackrock Dance Troupe's winter show "Passage" opens for a two-day run at the Benvenuti Performing Arts Center on Friday, Feb. 6.
Opening with Anne David's "River," set to Kina Grannis' song "Dear River," "Passage" takes its audience on a journey that includes Jill Stripling's extended "Red Lotus" and Devin LePage's second act collaboration, "Thank You."
In "Red Lotus," set to the haunting music of Tan Dun and Yo-Yo Ma, Stripling has choreographed a piece that is as elegant as it is intense. The dance celebrates strength, sacrifice and beauty and was inspired, Stripling said, by Chinese women and their stories. The red lotus symbolizes many positive qualities and is often associated with the heart.
Stripling's choice of red gowns for the female dancers adds to the power of this piece which includes several solos. The dance opens and closes with a pyramid-shaped lotus formed by the dancers.
After a brief intermission, LePage's "Thank You," an extended dance and spoken word piece honors mentors, friends, family and teachers follows a different passage. The accompanying music is sometimes harsh, sounding like a squeaky wheel, and begins a bit mournful. The music is appropriate and shifts throughout to end on a high note.
Three actors speak the words by Natomas Charter School senior Rachel Finerman, who wrote the piece as part of her senior project. Broken into seven sections – "Sacrifice," "Passage," "Adoption," "Teacher," "Friend," "Mentor" and "A Moment," this is a powerful performance pairing younger Star Academy and older Blackrock dancers to tell the story of how important being cared for is for all children.
Savannah Mitchell choreographed the hip hop dance inclusions and participated as one of two guest dancers. The other guest dancer is Lexie Calderon. One of the surprises was the young B-boy solo dance.
Choreography: Anne David, Devin Lepage, Savannah Mitchell and Jill Stripling
Tickets are available for pre-purchase online at a reduced rate ($10 – $12) or at the box office on the day of the show ($15 – $17). The are 7 p.m. on Feb. 6 and Feb. 7, 2015.
---
The Benvenuti Performing Arts Center is located at 4600 Blackrock Drive, Sacramento, CA 95835. For more information, see www.benarts.org.