THE NATOMAS BUZZ | @natomasbuzz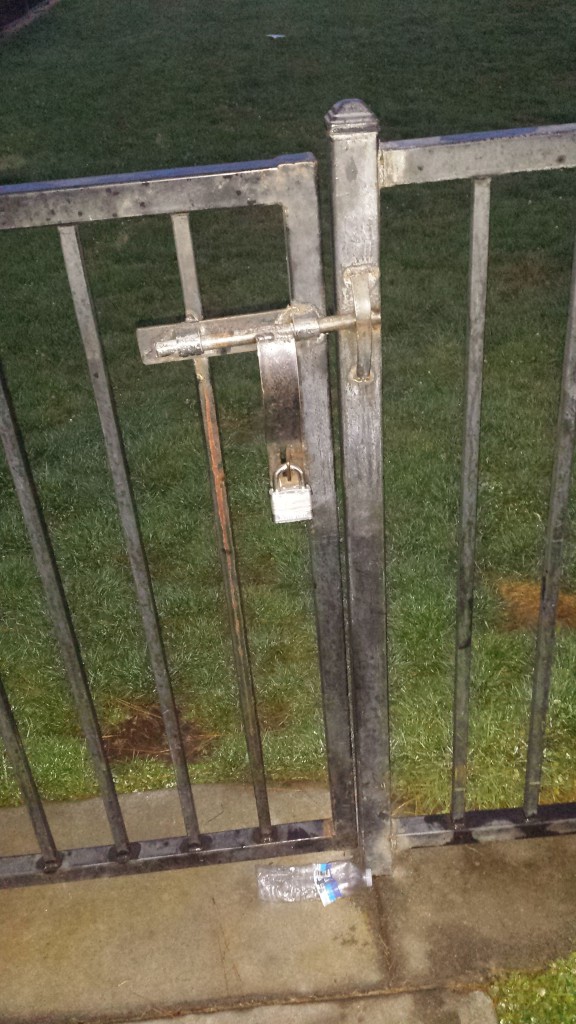 "For three years now I have been walking my dog at the wee hours of the morning (5 a.m. to 6 a.m.) around and thru the North Natomas Community Park. Many times we stop at the gated area adjacent to Natomas Park Elementary School and throw his ball for a fun game of fetch. Last year, to my surprise the gates were lock via master padlock. I figured it was because they was going to be some work done. But there was never a sign or any work done. Finally after a few months the locks were removed with no explanation. Well color me surprised when I was walking my dog again this morning and we go for our game of fetch and… the little gated park is a locked up again.  Why? I realize that area is a joint-use park between the school and the city. But that is only from 7 a.m. to 4 p.m.  Why is the park locked to the residents of Natomas? There is no school between 5 a.m. and 6 a.m. And I have been out in the evening hours too (6 p.m. to 8 p.m.) and the park is locked still. Why?"
-anonymous via e-mail
Rachel Minnick, district director for Mayor Pro Tem Angelique Ashby & city council District 1 responds:
"Thank you for asking about the use of the gated area at Natomas Park Elementary next to North Natomas Community Park. You point out something important: Natomas Unified School District and the City of Sacramento have a joint use agreement to maximize the public use of facilities.
"Our office contacted Kendra Shelton, Principal at Natomas Park Elementary, and she explained that the school and the City Parks Department work together to allow public access to the area you asked about between 5 p.m. and the start of the school day. In a nutshell, when school is closed for the day, the grounds are open to the public. The gate is locked for security reasons when school is in session. They want to deter people from entering the campus when children, teachers and parents are present. At 5pm, the school custodian is supposed to unlock the gate so that it is open to the public. When you found the gate locked, it should have been open. After speaking with Principal Shelton, she will work with the school custodian to make sure the gate is unlocked after hours so that you find it open in the early hours of the morning. She also asked the public to contact the school at 916-928-5234 if they find the gate locked after 5 p.m.
"Another friendly reminder about dogs: While we love all of our canine District 1 residents, they must be on-leash when they are in City parks. To give dogs a chance to run freely, we have two off-leash dog parks is North Natomas, at Regency Park and North Natomas Regional Park."
Natomas Park Elementary School principal Kendra Shelton adds:
"Just one additional note: the lock had to be replaced recently and we are working on obtaining a key. The gate schedule will return to normal as soon as a key is shared."
---
Send your questions to [email protected].