BY TRINA DROTAR
THE NATOMAS BUZZ | @natomasbuzz
Terrence Martin's road to the 2014 Rose Bowl was paved with pieces of metal he cut, shaped and formed into whales, bicycles and roses.
When Martin left his career at Sutter Memorial Hospital, where he worked in the cardiac surgery department as a Cardiopulmonary Perfusionist, it was to forge a career as a metal sculpture artist. That was nearly 10 years ago.
With only one art class to his credit, Martin knew that he could teach himself what he didn't already know. He benefited from having studied anatomy, physiology and chemistry – all critical in constructing his large pieces.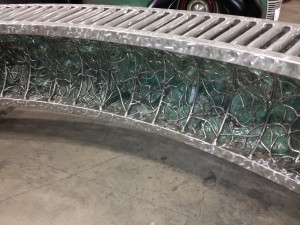 "I've got no formal training at all in this field," he said. "I have a Bachelor of Science in Behavioral Science. Did an internship at the Artificial Heart lab. I did work at the Museum of Fine Arts in my freshman year."
Martin's interest in building began in childhood. He was always creating stuff and sees himself now doing the same thing, only on a much larger scale. As a child, he'd take apart old hairdryers or build boxes to hold clock radios and played with Hot Wheels. He still plays with cars and makes metal sculptures.
"Now I'm doing what I like," said the 14-year Natomas resident.
Inside his warehouse-sized West Sacramento studio – dubbed The Jagged Edge – music cycles through classical, rock and anything with a driving beat. It echoes off the metal that fills the space where two classic vehicles and several sculptures in progress. A massive whale catches the eye.
"The whale tops everything," he said. "That's the only thing I've done without it being commissioned. It was what I wanted to do."
The whale – created during the recession when commissions were slow – is fashioned from cast off bits of metal Martin calls skeletons. The piece was unveiled at the 2010 California State Fair and is now slated for a new home in Petaluma's Deer Creek Village, a mixed-use center.
"It's the only whale I know that you can sit inside of and see out of while you're inside it."
Much of Martin's work is interactive, inviting people to use it in some way. A 7-foot-tall fire hydrant sculpture sits in a Mountain View park; it's dog friendly and features small spaces suitable for small dogs to explore.
Butterfly benches provide seating at the Fountains in Roseville and the River Walk near the Tower Bridge is home to "A Life's Ride." The 14-foot long bicycle memorial bench is 10-feet tall, weighs in at one ton and suitable for climbing. It's made of found objects and commemorates the life of farmer and avid cyclist Andrew Yokoyama.
"I want to do stuff that makes people walk up and smile," he said. "The next thing they're going to start doing is talk to the person standing right next to them."
Martin's clients include Nugget Markets, Mikuni, Off the Hook and the Sacramento Kings. The Kings connection led indirectly to the sculpture he created for the 2014 Rose Bowl.
For several years Martin has worked on trophy designs for the Pac-12 Conference's national football and basketball championships. When the Vice President of Marketing for the Pac-12 Heather Vaughan suggested he create a rose sculpture to gift to the Rose Bowl on behalf of the Pac-12 and Big Ten Conferences, Martin accepted the challenge.
This year's Rose Bowl marked its 100th anniversary and the Tournament of Roses parade celebrated 125 years of floats with the theme "Dreams Come True."
Martin had three weeks to complete the rose which measured approximately 6 feet tall and 8 feet across. The sculpture, he explained, had to look rustic with modern finishes. The finished piece is plated in 24 karat gold and triple chrome with a 4 inch band of polished brass imprinted with the dates of all conferences from the past 100 years.
Each of the 60 petals were shaped by hand, plated and carefully placed into position. Martin even designed a special stand to hold the 80-pound sculpture, which was placed in the Hall of Fame room on the upper floor of Tournament House, the headquarters of the Pasadena Tournament of Roses Association.
While in Pasadena, Martin was treated like a VIP but was not invited to the unveiling of his own sculpture.
One highlight was meeting and trading fist bumps with pro football Hall-of-Famer Lynn Swann. Swann even tweeted a photo of himself with Martin.
"I would have given up all the other VIP [events] to be at the unveiling," he said. "Swann saved the day."
PHOTOS BY MARC LAVER / THE NATOMAS BUZZ