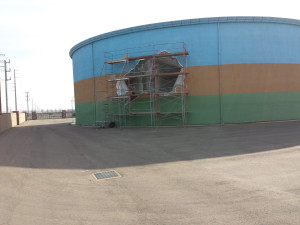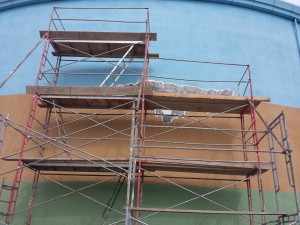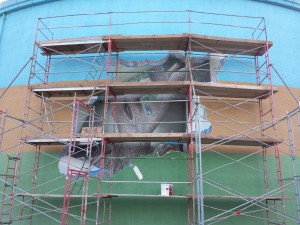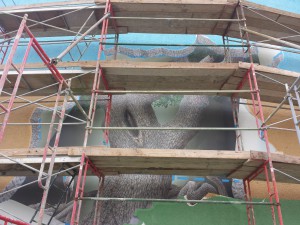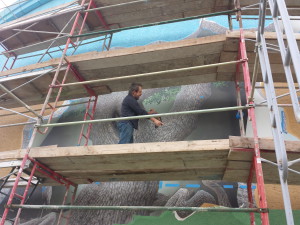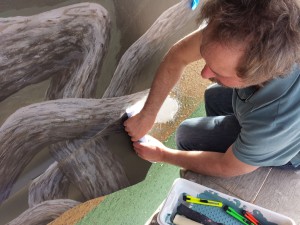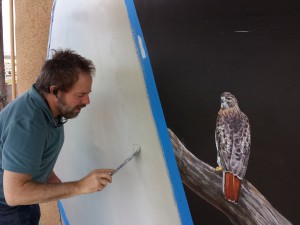 BY TRINA DROTAR
THE NATOMAS BUZZ | @natomasbuzz
At the intersection of Natomas and Elkhorn boulevard sits the Elkhorn Reservoir, a circular blue building which for years has served as a visual marker for area residents and visitors.
A few months ago scaffolding was erected along several sides of the tower. What appeared to be tears in the structure then started to form thanks to artist John Pugh, a muralist. Pugh's work is in the trompe l'oeil style of painting which has viewers question whether what they are seeing is real.
"Well Spring" will be the third public art piece in Sacramento created by Pugh and will join several public art pieces already in Natomas. Other public works include installations at the North Natomas Library, Burberry Park, the North Natomas Regional Park as well as pieces planned for the South Natomas Community Center – just to name a few.
Elkhorn Reservoir was chosen for Pugh's mural because it "is at the edge of North Natomas and is a distinct marker (that is) connected to the surrounding neighborhoods to the south and the fields and open space to the north," said Shelly Willis, Executive Director of the Sacramento Metropolitan Arts Commission.
Pugh called the reservoir's shape a "unique canvas."
He explained, "People don't notice (the art) unless it's unusual."
Pugh's "Well Spring" is inspired by the wetlands and open space near the reservoir. The mural centers around an oak tree which appears to be pushing through the reservoir walls. Birds calmly sitting along the oak's branches to balance the force of what Pugh describes as a "super tree that is drinking the water." Included are golden eagles, egrets and osprey.
Pugh paints the mural, piece by piece, in his Truckee studio and makes weekly visits to the reservoir site to install each element. When complete, the mural will appear as though it were painted directly onto the structure. While Natomas residents are hopeful for more rain, recent wet weather could delay the project's completion which was originally anticipated to be later this month.
"His depiction … will be dramatic from a distance, driving by at a relatively high speed and up close," Willis said.
What sets "Well Spring" apart from other public art in Natomas is that it is not easily accessible, yet will likely be seen by many people. Those riding their bikes, walking or driving along Elkhorn or Natomas boulevards will be able to see the murals through the fences which surround the city water storage facility.
When the project is finished, three images will be visible to travelers driving east or west along Elkhorn Boulevard and those driving north or south along Natomas Boulevard. This is just one of the reasons this design by Pugh was chosen, according to Willis.
"(Public art) allows the public access to work of art in everyday life," Willis said. "Public art is free, it requires no ticket, no appointment. It can help define community identity."
An official unveiling of "Well Spring" will be scheduled upon the project's completion and will be open to the public.
PHOTOS BY MARC LAVER / THE NATOMAS BUZZ