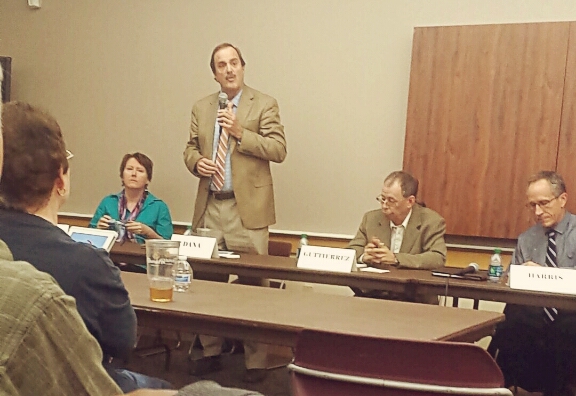 BY SUKHMAN REKHI, NP3 INTERN
THE NATOMAS BUZZ | @natomasbuzz
Nearly 50 community members attended the candidate for Sacramento city council Districts 1 and 3 Tuesday in Natomas.
The event was hosted by the Natomas Community Association and Gardenland-Northgate Neighborhood Association. Fox 40 News Anchor Stephanie Cruz acted as host and moderator for the forum held at the South Natomas Community Center.
The candidate forum included introductions from all candidates running for the District 3 city council seat in this year's election, a question-and-answer round, as well as a closing statement why candidates should be elected.
Seven candidates that are vying for the District 3 position. District 3 includes parts of South Natomas, Gardenland-Northgate and East Sacramento. Candidates on the ballot include Ellen Cochrane, Deane Dana, Efren Guttierrez, Jeffrey Harris, Adam Sartain, Cyril Shah and Rosalyn Van Buren.
District 1 council member Angelique Ashby is running unopposed, but also participated in the forum.
Candidates answered a series of questions submitted prior to the event by members of the community during the question-and-answer round. When asked, "What do you think are the three most important issues regarding your district?" – most candidates answered that health facilities and funding for youth programs were a priority.
Sartain said he increasing art and music programs are the most important programs for young people..
"…but are always the ones that get cut first," he said.
Ashby said that while those topics are important to the community, flood control in Sacramento should be "by far the No. 1 issue discussed at City Hall."
The topic of a reuse plan for Sleep Train Arena – once a new arena is built downtown – generated a heated discussion among candidates at the forum.
Ashby and the majority of the District 3 candidates said a hospital would be the most ideal reuse for the current arena's location. Others argued a community college campus would also work well.
The topic of completing the planned Downtown-Natomas-Airport lightrail line was also discussed.
"Natomas is a great place for opportunity and we just need the right council members to make these ideas come to life," Cochrane said.
The future of parks in both Districts 1 and 3, reducing crime at area apartment complexes, as well as the candidates' views on strong-mayor government were also covered during the forum.