BY KAYLEIGH NEALON, NCS INTERN
THE NATOMAS BUZZ | @natomasbuzz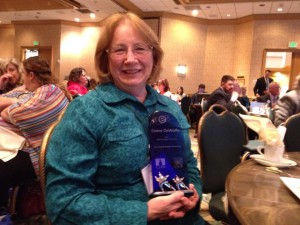 Natomas Charter School teacher Elaine DeWolfe was recently named "California Online Teacher of the Year" at the E-Learning Strategy Symposium.
"The Virtual Learning Academy is incredibly proud of Mrs. DeWolfe and we are so honored to work with her," said Rob Kinder, director of Natomas Charter's Virtual Learning Academy.
DeWolfe, a teacher at Natomas Charter's Virtual Learning Academy, has been teaching for more than 20 years – 11 of which have been for Natomas Charter. She started as a teacher at Natomas Charter's Individualized Learning Program which evolved into the Virtual Learning Academy in 2012.
DeWolfe has received several awards during her teaching career including Natomas Charter's "Distinguished Staff Award" in 2009, the student-selected "Teacher of the Semester Award" in 2012, and the "Instructional Innovation & Learning Academy Award" from Natomas Charter School.
"Elaine DeWolfe is a perpetual learner, which is why she is such an excellent teacher," said Ting Sun, Co-founder and Executive Director. "She constantly challenges herself to adopt new strategies in order to meet individual student learning needs, including the use of instructional technology tools."
DeWolfe is an English teacher in Natomas Charter's Virtual Learning Academy, where the online curriculum is developed by the school's teachers and enhanced with onsite workshops and personalized instruction. She currently teaches English for 9-12 grades, creative writing and senior project.
"Mrs. DeWolfe is very involved in what she does," said Marin Christ, an 11th grader. "She makes a constant effort to assure her students know not only what they are doing, but why as well."
DeWolfe, who's in the running for a national online teaching award to be announced later this year, said she loves "everything about technology" and teaching with technology.