THE NATOMAS BUZZ | @natomasbuzz
Seven people were injured – one critically – in a four-car accident Tuesday night in Natomas.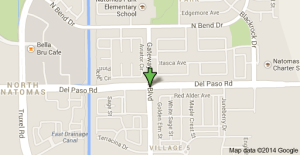 According to witnesses on the scene, four vehicles collided at the intersection of Gateway Park Boulevard and Del Paso Road at about 9 p.m. Tuesday, Feb. 25.
The vehicles involved in the accident were described as a gold Saturn sedan, a silver Toyota truck, a red Honda Civic and a blue Toyota Rav4.
The intersection was closed, and traffic diverted, for at least two hours while first responders treated multiple accident victims.
Sacramento Fire Dept. firefighters, the first on scene, requested additional medical support to treat and transport accident victims. Two children were among those who were injured.
At press time, Sacramento Police spokesperson Michele Gigante said the cause of the accident was not known and still being investigated.
The condition of accident victims was not readily available.
PHOTOS BY MARC LAVER / THE NATOMAS BUZZ