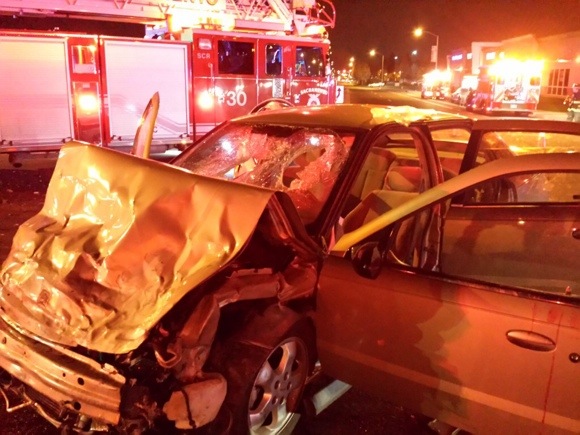 THE NATOMAS BUZZ | @natomasbuzz
DUI is the suspected cause of a multi-car crash in Natomas last night.
Charges are pending against the driver who reportedly ran a red light at Gateway Park Boulevard and Del Paso Road and crashed into three other vehicles, Sacramento Police said this morning.
A DUI investigation has been completed and the driver of the vehicle who caused the collision is expected to be charged upon release from a local hospital, police said.
The accident occurred at about 9 p.m. Tuesday, Feb 25 when the driver of a gold Saturn was reportedly driving southbound when he ignored a red light at the Gateway Park Boulevard and Del Paso Road intersection, hit another vehicle and caused a collision with two more cars, police said.
Seven people were injured and transported to an area hospital including two children, ages 3 and 6, who were passengers in the Saturn.
PHOTOS BY MARC LAVER / THE NATOMAS BUZZ