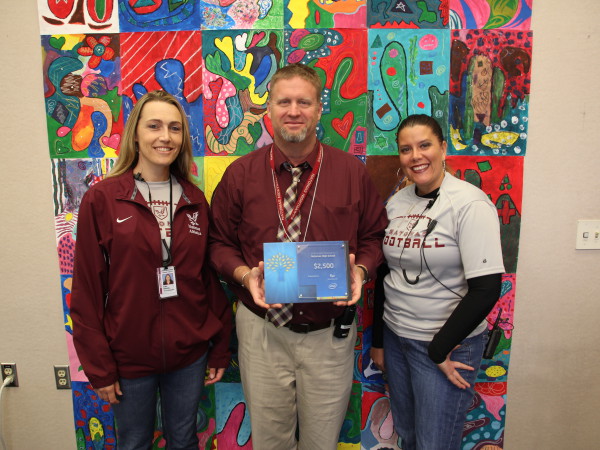 BY OJASWI ADHIKARI, NHS INTERN
THE NATOMAS BUZZ | @natomasbuzz
Natomas High School has received a $2,500 technology donation from Fry's Electronics in Sacramento.
The donation came as a part of a nationwide training competition hosted by the Intel Retail Edge Program and completed by sales associates from the Sacramento store. As a reward for completing the program, the Sacramento team was asked to choose a local school to receive a technology donation.
"Natomas High School was our number one choice, we voted based upon our sales associates and Natomas High won hands down," said Mark Ashby, Fry's sales associate. Ashby presented the donation to Natomas High school leadership during a special ceremony held Oct. 25.
The $2,500 donation will be used to purchase technology for use in the classroom at Natomas High to help students with their learning.
"We live in a digital and global world where students need to be comfortable with technology to become college ready," Principal Mark Beebe said. "Thank you, Mr.Ashby and Intel."
Natomas High was one of the 42 schools in the United States and Canada to receive a donation through the Intel Retail Edge Program. In all $278,000 was awarded to schools in the United States and Canada.
PHOTOS BY JEREMIAH MCWRIGHT, NHS INTERN / THE NATOMAS BUZZ