BY TREVOR HORN
THE NATOMAS BUZZ | @natomasbuzz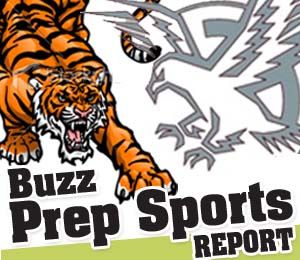 The biggest test of the season for this year's Inderkum High School football team will be tonight against Sac-Joaquin Section Division I powerhouse Pleasant Grove High School.
The game starts at 7:30 p.m. at Sheldon High School in Sacramento.
Inderkum's offense has been stellar through the first three games this season, averaging 47.7 points per game.
Once again, it has been the running game for Inderkum (3-0), with four running backs averaging over 56 yards per game on the ground. Tyler Dean (117 rushing yards per game) Terrence White (93.3), Marcus Gilbert (60.7) and Austin Thurman (56.3) have also combined for 14 touchdowns.
But the defense will need to contain an equally potent Eagles (3-0) offense.
Pleasant Grove beat two area-ranked teams in Rocklin High School (Inderkum's opponent on Sept. 27) and Burbank High School before handing long-time D-I powerhouse Nevada Union High School a 62-7 loss that was the worst in Miners history at home.
Led by duel threat quarterback Dre Terrell, Pleasant Grove is loaded with talent on both sides of the ball. This is not the same Eagles team that the Tigers beat in 2012 by a score of 42-28.
Wide receiver/defensive back Wyatt Demps (committed to Nevada) and running back/defensive back Brandon Lewis (committed to Boise State) lead a deep Eagles squad that has one of the bigger offensive lines in the area.
Natomas High (0-3) is still seeking the first win under first-year coach Ryan Battle. The Nighthawks have been shorthanded with only 18 players suited up through the first three games, and took a blow when running back Dejon Glover suffered a leg injury in last week's loss to Dixon High School.
Natomas hosts Argonaut High School tonight at 7:30 p.m.
Buzz Prep Sports Roundup:
Boys Soccer: Natomas suffered two tough losses this week. The Nighthawks lost to Rio Linda at home on Tuesday 2-1 despite four shots on goal either hitting the side of the net or the crossbar. The Nighthawks also fell to Roseville High School 1-0 on Thursday.
Girls Tennis: The Natomas High girls' team continues a hot start with a clean sweep in three dual matches this week. On Tuesday, the Lady Nighthawks beat Tri-County Conference rival Woodland 9-0 at home. No. 1 singles Marissa Rosales beat Angela Goodwin 6-0, 6-1. No. 1 doubles Aryana Harris and Drew Cruz-Duncan also won in straight sets (6-1, 6-2).
Natomas also beat Casa Roble 8-1 on Wednesday and won a second TCC match over River Valley on Thursday, 7-2.
Inderkum blanked Woodland 9-0 in a TCC dual on Thursday.
Girls Volleyball: After a close close 3-0 (20-25, 22-25, 22-25) loss to Kennedy High School on Tuesday, the Inderkum girls volleyball team (5-2) beat Franklin High School on Thursday 3-2.
Natomas High (0-5) lost to Florin on Tuesday 3-0.
Girls Golf: Inderkum beat Natomas 256-343 on Wednesday for the dual match between the two schools this season. Sophomore Amelia Hicks shot a meet low 44 to best the field. Hicks also shot a 40 on Tuesday as Inderkum beat TCC opponent Pioneer High School 269-343.