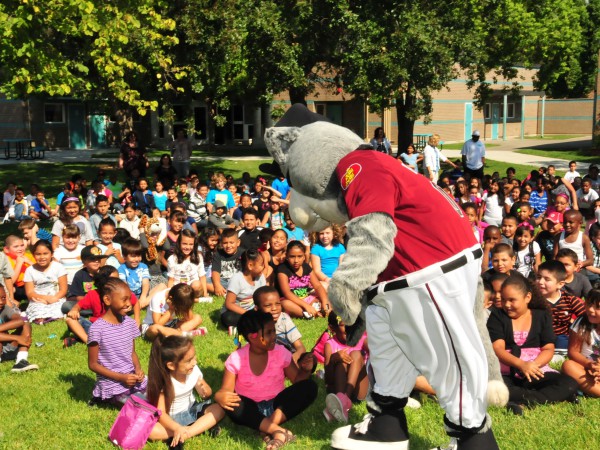 PHOTOS BY MARC LAVER
THE NATOMAS BUZZ | @natomasbuzz
Assemblymember Roger Dickinson earlier this week distributed more than 500 backpacks to students at Bannon Creek Elementary School in Natomas.
Dickinson's third annual "Give Back(pack) Drive," a back-to-school drive to collect backpacks and supplies for kindergarten through 6th grade students ran throughout August. Dickinson, with the help of the Sacramento River Cats' mascot, Dinger, handed out the backpacks at a school assembly.
"I am thankful for all of the generous donations we received from Sacramento area businesses and members of the surrounding community. Every child deserves to have the tools necessary to succeed in school," said Dickinson, D-Sacramento. "Over the last three years of holding our annual back-to-school drive, I am proud that we've been able to distribute over 1,300 backpacks to Sacramento youth," he added.
Donations were received from Wells Fargo, Comcast, BagKing.com, as well as many donations from Capitol staff, local businesses, and the surrounding community throughout the drive. At the event, Dickinson was joined by Sacramento County Supervisor Phil Serna, Sacramento City Councilmember Steve Cohn, Natomas Unified School District Superintendent Chris Evans, and school board members Lisa Kaplan and Scott Dosick.
The entire student body of Bannon Creek Elementary School totaling 540 kids received the new backpacks. Teachers at the school also received supplies for use in their classrooms.
"Thank you to Assemblymember Dickinson for holding his back-to-school drive and to those who donated so generously. Our students are thrilled and grateful to have new backpacks to begin our school year," said Amreek Singh, principal at Bannon Creek Elementary School.