BY BRANDY TUZON BOYD
THE NATOMAS BUZZ | @natomasbuzz
Several Natomas schools bucked a regional and statewide trend by posting gains on the 2013 Academic Performance Index, according to data released today by the California Department of Education.
Statewide, the overall API declined by 2 points from last year while the Natomas Unified School District grew its score 4 points – the only PreK-12 school district in Sacramento County to post API growth.
Much of the credit for the API score increase in Natomas can be attributed to massive gains made at Jefferson and Two Rivers elementary schools which topped the Sacramento region and are among leaders statewide in increasing their Academic Performance Index score. Both elementary schools also met all schoolwide and student subgroup growth goals, according to the state 2012-13 Accountability Progress Report.
"We will continue to use multiple measures to determine student success, but the message from API is clear: Our targeted efforts to boost student learning are working," Superintendent Chris Evans said of the Natomas district's gain from 787 in 2012 to 791. "The Natomas Unified School District is moving up and we plan to continue that momentum this year."
The Academic Performance Index, or API, is a numeric score ranging from a low of 200 to a high of 1,000. School and student group targets for each school are based on the previous year's score; 800 API is the statewide target. All subgroups – ethnic groups, English learners, students with disabilities, and the socioeconomically disadvantaged – must meet growth targets for a school to meet its overall API growth goals.
Seven schools located within the district boundaries – American River, Jefferson, NP3 Middle, Inderkum, Natomas High and NP3 High – posted double-digit API gains. All of those schools, with the exception of Natomas High, met all student score targets.
For the second year in a row, Jefferson Elementary School recorded the Natomas district's highest score jump from 671 in 2012 to 741. Two Rivers Elementary School and Natomas Pacific Pathways Middle School ranked among the top 10 schools in the Sacramento region with the largest percentage point increases on English-Language Arts STAR tests.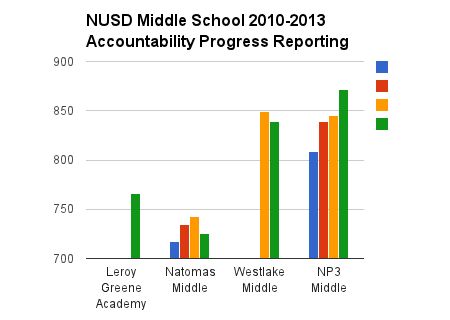 NP3 Middle School's API score saw a 27-point increase to 872.
"Over the last three years NP3 Middle School has gained over 63 points," Principal David Hunt said. "This is a tribute to the students for working hard, the teachers for their commitment to excellence and to the parents for entrusting their children to our care and supporting the school."
Inderkum High's score went up by 20 points marking the school's fourth-consecutive year of back-to-back positive API gains. Natomas High regained ground lost in 2012 and then some, recording a score of 712. NP3 High School posted a 10-point API increase and met all subgroup targets.
"NP3 High is very pleased with our continued API growth," Principal Tom Rutten said. "We are especially proud of exceeding the growth targets for all of our students, as we continue to work to eliminate the achievement gap."
Scores at eight schools – Bannon Creek, Hight, Natomas Park, Westlake Charter, Witter Ranch, Natomas Middle, Westlake Middle and Natomas Charter – saw double-digit deciles in their scores. The API score for Witter Ranch Elementary fell by 26 points, followed by Natomas Middle which went down 18 points, and Bannon Creek by 17 points. Heron School posted a one-point drop from from 839 in 2012 to 838.
"We know there's work still to be done in the Natomas Unified School District," Superintendent Evans said. "We are pleased with our success, but we're never fully satisfied. There's always room for improvement."
Although Westlake Charter Elementary was among three independent charter schools which saw their scores drop, it posted the district's highest mark with an API of 911. A 15-point drop in API was the first in the history of Natomas Charter School, according to the school's executive director Ting Sun.
Said Sun, "This is definitely an anomaly for Natomas Charter and we're looking back and analyzing possible factors that contributed to the drop."