THE NATOMAS BUZZ | @natomasbuzz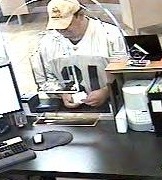 The FBI and Sacramento Police Department believe the same suspect is responsible for several robberies in the Sacramento region, including two within hours of each other Saturday in the Natomas area.
At 9:31 a.m. June 8 a suspect entered the Schools Credit Union on the 2000 block of Natomas Crossing Drive, approached a teller and displayed a note demanding cash.
The teller refused and the suspect fled on foot. Witnesses observed the suspect, who wore a jersey with the number 81 on it, flee to a light colored Chevrolet Aveo.
A short time later, at about 12:50 p.m., the same suspect entered the Chase Bank on the 3800 block of Truxel Road and again handed the teller a demand note. In this case, the teller complied and the suspect fled with cash. The suspect was wearing the same jersey described in the attempted robbery earlier.
Similar robberies attributed to the same suspect by the FBI and local law enforcement occurred on May 10 and May 24, including one on 1500 block of West El Camino Avenue.
According to law enforcement, the suspect threatens to use a gun but no weapon has been seen and no injuries have been reported in any of the incidents.
The suspect is described as a white male in his 30s, 6'0″ to 6'1″ tall and weighing 250 to 260 pounds. He has red/brown, a red/brown goatee, with a light complexion.
The getaway vehicle is described as a 2006-2011 4-door Chevy Aveo sedan, light in color, possibly grey or silver.
The Sacramento Police Department urges anyone with information pertaining to this crime to contact the dispatch center at (916) 264-5471 or Crime Alert at (916) 443-HELP (4357) or text in a tip to 274637 (CRIMES). Enter SACTIP followed by the tip information. Callers can remain anonymous and may be eligible for a reward of up to $1,000.