BY TREVOR HORN
THE NATOMAS BUZZ | @natomasbuzz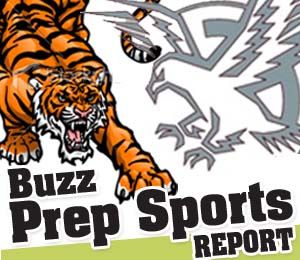 The Inderkum High School boys track and field team won the program's first Tri-County Conference Championship on Thursday at River Valley High School in Yuba City.
Kris Sapp won the boys 100 (11.04 seconds) and 200 meters (22.61) and Brian Payne Jr. won the 400 (50.91) for Inderkum. The two also teamed up with Kyre Ayo and Gabriel Robertson for the league title in the 4×100 relay with a time of 42.99.
Inderkum finished with 129 team points to second place Woodland's 105.50. Natomas High School boys finished in fifth with 21 points.
Inderkum girls varsity finished in fourth place with 52 points and were led by a second place finish by Whitney Erby in the 300 hurdles. Inderkum will send 12 athletes to the Sac Joaquin Section Division III championships May 15 and 17 at Bella Vista High School. Natomas will send four athletes.
Spring All-League Honors
Carl Anderson and Austin Thurman were named to the TCC all-conference baseball team this week for Inderkum. Eduardo Rodrigues of Natomas also honored.
Inderkum softball pitcher Cailin Garmon and Natomas High power hitter Alexandria Tinoco were named to the TCC all-conference softball team.
Inderkum soccer falls in first round
Seeded No. 4 in the section D-III playoffs, the Inderkum girls' soccer team lost at home to No. 5 seed Oakdale 2-1 in the first round on Wednesday.
The two teams went into halftime tied at 0-0. Senior Danielle McCarthy scored off a corner kick early in the second half to give the Lady Tiger a 1-0 lead.
The Mustangs scored the equalizer later in the half and won on a late goal with under five minutes to play.
Inderkum won the TCC title with a 7-0-3 league record and finished 13-5-5 overall.