BY TREVOR HORN
THE NATOMAS BUZZ | @natomasbuzz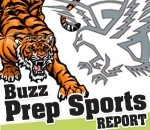 The Inderkum High School varsity baseball team remains undefeated (5-0) with a 10-5 win over Cordova High School on the road today.
First-year head coach Eddie Cervantes' team also beat Rosemont High School 13-11 on March 9. Sophomore Austin Thurman paces the Tigers with two home runs, a 1.231 slugging percentage and 12 RBI-all tops in the Sac Joaquin Section D-III, according to stats compiled at Maxpreps.com.
Inderkum plays Oroville High School at home on Monday and at Grant High School on Thursday.
Natomas High School baseball fell to 0-2 with an 18-0 loss to Marysville High School on Monday. The Nighthawks host Mira Loma High School on Monday.
In softball, power hitter Alexandria Tinoco, led Natomas High's softball win over Rio American0 High School 10-9 on Wednesday. Tinoco hit her section-best fifth home run of the season in the win for the Lady Nighthawks (5-6). Natomas High also beat Galt High School 6-3 in five innings on Monday.
The Lady Nighthawks host Rio Linda High School on Monday and play the Mira Loma High School Matadors at home Wednesday.
Inderkum softball fell to 3-4-1 after a very competitive weekend tournament in Elk Grove. But first-year coach Adolfo Coronado is confident that the team, led by Alyssa Pasion-Cordoba (11 RBI, 3 homeruns), will "continue to improve."
The Lady Tigers also lost to Liberty Ranch High School on Tuesday, 9-3. A road at Monterey Trail High School has been rescheduled for Monday at 4:15 p.m.
In girls soccer, Inderkum opened Tri-County Conference action with a 7-0 win over Yuba City High School on Wednesday. Led by Danielle McCarthy, the Lady Tigers (6-4-1, 1-0) also beat Monterey Trail 7-0 on Monday.
McCarthy is tied for sixth in the section with 25 points off 12 goals on the year. The Lady Tigers are on the road Monday at Woodland High School and hosts River Valley High School on Wednesday.
Natomas soccer also opened up TCC action with a 2-2 tie with Woodland High School on Wednesday. The Lady Nighthawks (4-4-1, 0-0-1) were led by goals made by Arianna Gomez and Evelyn Cordero.  Natomas hosts River Valley High School on Monday and is on the road at Pioneer High School on Wednesday.
Natomas High senior Zakari York won the 100-meter dash in a TCC dual track-and-field meet against Woodland High School on Wednesday with a time of 14.24 seconds. York also finished second in the girls 200 (29.95) while the boys 4×400 finished first in the meet.
In boys tennis, Ricky Ratiff won his singles match (6-0, 6-4) for Natomas High against TCC opponent River Valley High School on Wednesday. And Natomas High competed against Woodland in the TCC boys golf opener at Teal Bend Golf Club.
Contact Trevor Horn at [email protected] and follow on Twitter @trevhorn.