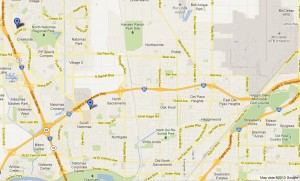 BY BRANDY TUZON BOYD
THE NATOMAS BUZZ | @natomasbuzz
Two teens were arrested today for bringing loaded guns onto two separate Natomas-area school campuses.
The two incidents do not appear related, Sacramento Police spokesperson Michele Gigante said, and there are no indications the students meant to use the guns to harm anyone at the schools.
"Kudos to the teachers who were paying attention to the odd behavior of the students," said Gigante of the gun discoveries.
At about 10:10 a.m. officers were called to Discovery High School at 3401 Fong Ranch Road where a 16-year-old male student had been called to the principal's office on an administrative matter. While walking to the office, a school employee saw the student stop and leave his backpack at the library. When the employee investigated, they found a loaded gun, Gigante said.
Less than an hour later, at about 10:40 a.m., officers were called to Natomas Middle School at 3200 North Park Drive where a teaching assistant collecting recyclables discovered a loaded gun in a trash can. Officers took possession of the gun, booked it into evidence and were checking it for fingerprints when the school principal called police to report seeing student looking around the trash can. Officers returned to campus and arrested a 14-year-old male student.
"We don't know how these kids came into possession of these guns," Gigante said. "Let this be a reminder about practicing gun safety at home."
Both teens have been booked into juvenile hall.
The incident at Natomas Middle School marks the second gun-related arrest on that campus in less than a month. On Feb. 8 police arrested a 13-year-old for bringing an unloaded gun onto campus.