Lady Tigers beat rival Natomas, both await playoff futures
BY TREVOR HORN
THE NATOMAS BUZZ | @natomasbuzz
The Inderkum boys basketball team did their part Tuesday night for a share of the program's first Tri-County Conference title by beating neighborhood rival Natomas High School 51-37.
The team celebrated. A packed house cheered on. The band played, the team and cheerleaders even got into a circle at mid court and did a triumphant chant.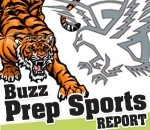 Senior Quentin Davis was elated thinking both Inderkum and River Valley High School were tied for first place.
"Words can't describe how I feel right now," Davis said on the court moments after the game ended. "It's a Tuesday, but I feel like partying. This is unbelievable right now. I've wanted this since freshman year, and we got it. I am feeling too good."
Then back in the locker room, with just the players and the coaching staff, they all got word that five-time defending league champions Yuba City defeated River Valley, giving Inderkum the outright title.
Excitement is an understatement to describe the team's reaction to the news.
"This was the biggest game in Inderkum history," Tigers head coach Rodney Haymer said. "First time league champs … a banner by ourselves, you can't get any bigger than that."
On Jan. 29, Natomas beat the Tigers 61-48. But on Tuesday, with some changes to the starting lineup and a tweak of the defense, Inderkum came out with an 11-0 start to the game.
Inderkum senior Seth Just, coming off an ankle injury that had him in a cast up until a week ago, started for the first time in over a month.
Along with fellow seniors Samer Dhillon and Davis, the trio combined for 22 points and leadership in the first and third quarters.
"One of the things we noticed in practice (on Monday) was how hard 'Q' was attacking the rim and how well Seth rebounded," Haymer said. "…It was a late, late decision to start Seth."
Davis scored all six points in the third quarter for Inderkum when Natomas rallied coming out from halftime, scoring five quick points off a Jalen Manning jumper and 3-pointer from Cameron Graham. The Nighthawks cut the lead to 38-30 at the end of the quarter.
But Inderkum responded with a 7-2 run, including a 3-pointer from Terrence White that opened up a 12-point advantage of the Tigers with five minutes left in the game. White finished with a game-high 18 points.
The biggest difference in the two games was the lock down defense against Natomas junior Phillip Morgan. Inderkum held Morgan to eight points, his lowest scoring effort of the season. Morgan had come into the game averaging 18.2 points per game in the previous nine TCC contests.
"Our focus was him all game long," Haymer said. "…We had special Saturday practice just to focus on Phillip Morgan … between him and (White), they are the two best players in our league."
Graham led Natomas with nine points as the Nighthawks finishes the TCC schedule with a respectable 5-5 record after winning just one non-league game.
Inderkum now can regroup and wait to find out who they play in the first round when the section playoff brackets are released Wednesday. The Tigers were the No. 8 seed in the final power rankings release last week. Top-eight seeds will host a first round game on Wednesday, Feb. 20.
"To have our first league championship was huge," Haymer said. "I was exuberant when I found out we were champs and that we were possibly sharing it with River Valley. Now to be sharing it all by ourselves, it is like an exclamation point. It's like having cake and someone giving you ice cream. It doesn't get any better than that."
Inderkum girls beat Natomas
Playing like a team that has hopes of going deep into the Sac Joaquin Section Division III playoffs, Inderkum girls basketball team beat neighborhood rival Natomas 61-30 at home Tuesday.
Led by Sakara Brewer's 21-point performance, the Lady Tigers (17-10 overall, 8-2 TCC) overcame an early 10-5 deficit to outscore Natomas (5-17, 4-6) 24-4 in the second quarter.
From there, Inderkum never looked back.
"It was a lot of fun with the rivalry game," Brewer said. "The fact that we all came together and executed what coach told us to do was what made it fun."
And now the Lady Tigers can look towards the playoffs.
"If we go into playoffs (playing like Tuesday night), we are probably going to go pretty deep," Brewer said.
Inderkum freshman guard Shymir Mitschan-Baldwin scored 13 points for the Lady Tigers and Kyliah Daniel, Cheyenne Porter-Hendrix and Lindsay Hayden all chipped in with five points each.
Despite a losing record, the Lady Nighthawks wait to learn where they will land in the playoffs. Inderkum, still hopeful for a home game in the first round.
Natomas is in the running for the No. 16 seed in the playoffs.
Sophomore Hayley Polk led Natomas with 15 points and Halle Hamre scored six. The Nighthawls played without starting forward Sierra Maun for the final 27 minute of the game. Maun was called for a technical foul with 2 minutes, 47 seconds left in the first half – her fifth and final foul of the game.
Both teams will find out their playoffs fates Wednesday when the brackets are announced.