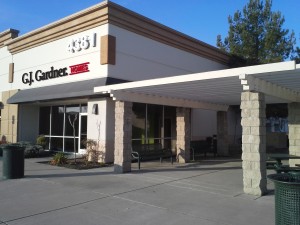 THE NATOMAS BUZZ | @natomasbuzz
G.J. Gardner Homes has opened its new state headquarters in Natomas.
The headquarters will include a training center and showroom, available to all G.J. Gardner franchises and suppliers nationwide for education and team support. G.J. Gardner Homes is expecting to add several more franchises to its operation this year, keeping in line with California's recovering construction industry.
"We have every confidence that the worst of the recession is over and we can plan for future growth," Greg Dettwiler, sub franchisor for G.J. Gardner Homes California, one of the state's largest custom-home builders.
Training events will be held at the facility every month for franchise owners and staff around California and nationwide. The showroom will house displays from G.J. Gardner Homes' major suppliers including Kohler, Kitchen Aid and DuPont.
Relocating to Natomas community was a deliberate step for G.J. Gardner Homes.
"Natomas is a very business-friendly environment," says Dettwiler. "Close proximity to Sacramento International Airport, which has direct flights from key destinations in the United States, makes this location the ideal place to position our headquarters."
Sacramento Vice Mayor Angelique Ashby and Natomas city councilwoman added, "I am proud to represent an area that provides so many great resources to businesses, such as proximity to two major freeways, great restaurants, hotels and that is close to downtown."
Modern infrastructure, sense of community and its status as the fastest-growing neighborhood in Sacramento are additional reasons for locating in Natomas. Franchise owners and staff visiting the headquarters will have an array of options during their stays in Natomas.
"I am glad to welcome G.J. Gardner Homes to Natomas," Ashby said. "As a master franchise office, they will fit in well with our community and will add to the continuing economic growth and prosperity of Natomas."
G.J. Gardner Homes is located in the Goldenland Business Park at 4381 Gateway Park Blvd.