"Streetwise: Walking & Biking In Natomas" was undertaken as part of a health journalism program offered through The California Endowment Health Journalism Fellowships, administered by the University of Southern California's Annenberg School for Communication & Journalism. The four-part series examines whether efforts to create a healthy, walkable and bikeable community in Natomas have been successful.
Streetwise: Building A Better Natomas

BY BRANDY TUZON BOYD
THE NATOMAS BUZZ | @natomasbuzz
published Oct. 15, 2011
Just across the American River from downtown Sacramento live thousands of the city's residents.
They make their homes in Natomas which occupies merely one-fourth of the greater Natomas Basin – a massive 55,000 acres in all, surrounded by two rivers and a network of drainage canals.
"South Natomas was specifically built to be a bedroom community to downtown Sacramento," said former city councilman Ray Tretheway, a Natomas resident for three decades. "There were to be no shops to buy clothes, no movie theater, no big restaurants."
Area residents, he said, were expected to work, shop and play in downtown Sacramento.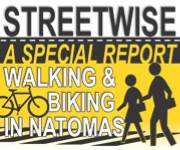 A lot has changed since then.
The area is now comprised of several distinct neighborhoods – defined in part by two interstate freeways – and sprawls across 22 square miles from Garden Highway, where Tretheway lives, north to the city limits near the Sacramento International Airport.
In the past 10 years, the Natomas population has more than doubled.
Area amenities include a multiscreen movie theater, numerous restaurants and clothing stores, a sports and entertainment arena, miles of bike and walking trails, and the promise of more to come.
Today, Sacramento city officials will celebrate a new bike and pedestrian bridge which, for the first time, connects the Natomas community's trails, located north of Interstate 80 to trails south of the freeway. The grand opening event scheduled for 9:30 a.m. at Peregrine Park is just short of historic in a community where connectivity has long been a focus.
The $6.1 million project includes a nearly two-block-long bridge over the freeway and a smaller bridge across the West Drainage Canal along with new connections to existing bike trails.
"People are so excited about the bridge opening," said Becky Heieck, executive director of the North Natomas Transportation Management Association. "There will be a lot of pedestrians and cyclists who will use it – they will just go out of their way to use it."
Over the years, between 1950 and 1980, south Natomas grew predominately as residential subdivisions.
The South Natomas Community Plan approved by city officials in 1978 envisioned the area as a high-density, transit-oriented, residential community.
But changes in the community and its expectations for the area paved the way for a revised South Natomas Community Plan in 1988 which included new parks, riverfront access, a proposed light rail line and connections to new and existing parkways frequented by cyclists.
When work on the 1994 North Natomas Community Plan rolled forward, significant efforts were made to accommodate bikes and pedestrians, said city traffic engineer Hector Barron.
"In north Natomas, there was an emphasis on walking," Barron said. "For the first time the city of Sacramento introduced standard, separated sidewalks where there is a planter area."
The community plan for north Natomas envisioned a mixture of residential, employment, commercial and civic uses in the new-growth area interdependent on transit service and a network of connections linked by streets, public transit routes, and linear parkways with bike and pedestrian trails. Homes were to be within walking distance of open space and employment centers pedestrian friendly.
"Citizens will use pedestrian trails or bikeways as part of their work commute pattern to move to and from commercial centers, civic uses, and recreational facilities, or solely for recreational activity," reads the 1994 North Natomas Community Plan.
The city's planners and traffic engineers tried not to repeat mistakes made in growing south Natomas, Tretheway said.
For example, he said, a bike and pedestrian bridge once planned from Truxel Road to downtown Sacramento was eventually erased from plans for south Natomas. Later, three bike and pedestrian bridges over Interstate 80 – including the one opening today – were planned.
"We started with a clean slate," said Tretheway, "with strong concepts on how to link north Natomas to the south."
Links to:
1986 South Natomas Community Plan
1994 North Natomas Community Plan
Streetwise: Safer Routes For Students

BY BRANDY TUZON BOYD
THE NATOMAS BUZZ | @natomasbuzz
published Oct. 27, 20122
Terri Tavita lets her 10-year-old son ride his bike 1 mile to and from school, but not without misgivings.
Concerns about traffic safety top the list.
"He's more likely to be hit by a car than abducted on his way to school in Natomas," she said. "It's frightening."
Tavita said she's seen firsthand how drivers roll through uncontrolled intersections oblivious to bike and pedestrian traffic. And she's well aware of the accidents near neighborhood schools in recent years.
Just three weeks ago, a Two Rivers Elementary School student was hit by a car as he rode his scooter to school.
The city-run "Captain Jerry Traffic Safety Program" will visit the Two Rivers campus next week to teach students how to travel safely to school – from walking in crosswalks to watching for c
ars to cycling rules of the road.
But parents and those who live near area schools complain: it's drivers who make Natomas roads unsafe for young pedestrians and cyclists.
STOP MEANS STOP
Laurence Wilson lives adjacent to a four-way stop and kitty-corner from Heron School, a K-8 campus of 800-plus students.
Wilson said he rarely sees drivers stop at the intersection, even when school is in session.
"I would say 10 percent come to a complete stop, the other 80 percent are rolling through," he said. "I've yelled out that 'Stop means stop,' but they just ignore me."
A block from Wilson's house, in September 2010, an 80-year-old woman crossing the street was struck by a car and killed. An hour later, less than a mile away, a boy on a bike was the victim of a hit-and-run accident while on his way to school. Within the same week, a young girl collided with a vehicle as she crossed the street in front of Witter Ranch Elementary.
These three incidents spurred city Councilwoman Angelique Ashby to hire retired police officer John Banks in February to work part-time as a traffic and school safety coordinator for District One.
"One child injured is unacceptable," Banks said.
Banks and a city traffic engineer inspected school sites throughout the Natomas Unified School District to identify changes needed to striping, signage, traffic flow and parking which would improve student safety. A report including these recommendations was presented by the city to the school district in July.
"We are working with the city traffic department to prioritize, cost and schedule modifications to curbs, sidewalks and traffic markings on city property," said Michael Cannon, the school district's executive director for facilities and planning. "We are doing the same for the interiors of the campuses, which will be completed by the district."
The city finished some improve
ments at Witter Ranch Elementary School over the summer.
Parent Larry Richardson participated in the series of community meetings which led to the changes.
His 7-year-old daughter suffered a bad case of road rash as a result of last year's accident – when she collided with a vehicle in September 2010 – and still has a scar to show for it.
"I see now, when I pick up my daughter in the afternoon, it's not as bad as it used to be," he said. "Mornings are still an issue."
Students who attend the Twin Rivers Unified School Dis
trict's three elementary schools situated adjacent to the Northgate Boulevard corridor are guided across one of the busiest roadways in Natomas by city crossing guards.
"Northgate … has gotten out of control," said Twin Rivers Police spokesman officer William Cho. "People use it as a thoroughfare from the north side to downtown because it's the only direct route to Highway 160. Northgate has been a victim of growth and expansion."
Gardenland Northgate Neighborhood Association president George Azar still remembers when he was a child and a friend of his brother was hit by a car and killed in
front of Smythe, now a charter school, on Northgate. In December 2009, a preschooler walking to the school was killed by a hit-and-run driver near the same spot (memorial pictured above). To date, the driver has not been apprehended.
"Northgate has always been a problem," Azar said.
SURVEYING ROUTES TO SCHOOLS
A transportation mode survey in 2004 showed a disparity between how many Natomas students living within half a mile walked or biked every day to their school. Safety and fast traffic were reasons cited by parents why their children did not walk or bike.
The survey found the further students lived from schools, the less likely they were to walk or bike. Many parents reported their kindergarteners through fifth graders were too young to walk or bike. Twenty-five percent of the parents who responded said they preferred to drive their children to school.
"One common complaint was the parking lot, entries and exits used to drop off children at school," the survey results read. "This presents the picture of a vicious circle; parents are concerned about letting their kids walk or bike because of the traffic concerns close to the schools, so they in turn drive and make the situation more hectic."
Armed with these survey results from 2004 and input from the community in the 2006 "Report on Recommendations from Community Design Workshops in North and South Natomas," the Natomas Unified School District applied for and was awarded a federal, multiyear Safe Routes To School grant in 2007.
The mission of Safe Routes to School is to improve children's safety while walking and bicycling to school.
According to Cannon, the infrastructure portion of the grant – which entails changes to sidewalks and crossings adjacent to Bannon Creek, Jefferson and Natomas Park elementary schools – has been scoped by the district and city, and is currently in design by the city traffic engineering department.
"When fully completed, current plans are for the city, in consultation with the district, to schedule and complete construction of the improvements at Jefferson and Natomas Park elementary schools," Cannon said. "The Bannon Creek improvements will be done by the district as a part of the infrastructure package for the Bannon Creek K-8 conversion project."
In August 2009, the district hired Safe Routes program coordinator Dario Gonzales who quickly got to work on the non-infrastructure portion of the grant which is to develop programs which encouraged walking and biking to Natomas schools.
WALK (OR RIDE) THIS WAY
Some campuses, such as Natomas Park Elementary, already had grassroots walk-to-school programs in place. Others needed to be started from scratch.
For example, Gonzales teamed up with the North Natomas Transportation Management Association to kickoff a walking and biking program at Witter Ranch in May and again this school year.
"It's been a long time coming," said Gonzales, who has since left Natomas to take a job with a neighboring school district. "At this point, we are hoping to build momentum."
Last year, Gonzales also worked with Two Rivers Elementary on a variety of biking programs.
When a needs assessment showed students did not have helmets to wear, Gonzales joined forces with the school's PTA group to coordinate helmet fittings and giveaways – more than 100 helmets in all – twice last year.
Bike-to-school events, held every Friday, included incentives for students.
"Kids who rode (bikes, sco
oters and skateboards) and wore helmets would win prizes," principal Leslie Sargent said. "This year, we are definitely planning to … keep it rolling."
Weekly walk (or bike
) to school programs have thrived at several Natomas-area schools in recent years. At Heron School, a core group of students participate every week – rain or shine – in Footloose Friday walks and rides.
"It's supposed to be a healthier lifestyle for them, but it has also deepened the sense of community," said Beth Mahony, now in her third year as a volunteer leader who guides students from a neighborhood park to the back gates of Heron School.
On the opposite side of Interstat
e 5, Westlake Charter School already had vibrant Walking Wednesday and Footloose Friday programs in place when avid cyclist Ebers Garcia suggested a first-of-its-kind daily "bike train."
Creating a cycling community for children to be healthy and stay alert when they are at school, is a perfect combination, said Garcia. He's had up to 20 students and their parents participate on rides.
"Every day, rain or shine, except when it's very windy or pounding cats and dogs, we're there," Garcia said. "The kids are very resilient."
The North Natomas Transportation Management Association also works with one of the Twin Rivers Unified School District's schools in Natomas. Regency Park Elementary has a Two Feet Tuesday walk-to-school program.
Principal Michael Reed said the North Natomas Transportation Management Association's programs have raised awareness around safety issues while the competitive aspects keep students engaged.
"I think the TMA's work has been brilliant," Reed said. "Our kids love it and get a lot out of it."